CCM Hockey Players of the Week Awards: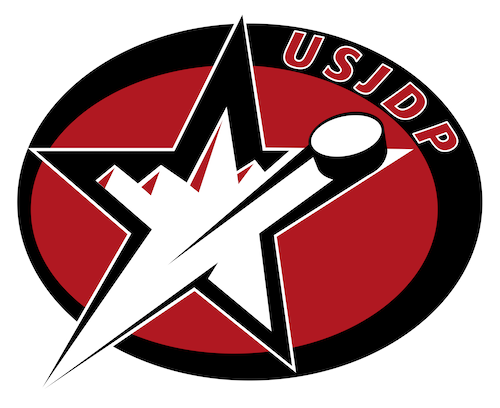 The U.S. Junior Development Program is proud to have CCM Hockey as a sponsor of the Junior Prep Camp as presenting sponsor for the "Player of the Week Awards".
The CCM Hockey Player of the Week Awards, as selected by the coaches on hand each week, is chosen based not only on a players' performance throughout the week, but also on their intangibles such as coachability, work effort, and overall improvement. It is awarded to the player that is most dominant, and puts forth the best performance, in their group over the course of the week. The weekly winner will receive a new CCM Tacks one-piece stick.
---
CCM Hockey Top Forward Award:
2021 Award Winners:
Week 1: George Acklin, Steel City Ice Renegades HS (PA)
Week 2: Chase Leivian, Colorado Rampage AAA
2019 Award Winners:
Week 1: Bowie Slarks, Minnesota Blue Ox, Junior A
Week 2: Wilson Mueller, Phillips Exeter Academy
2018 Award Winners:
Week 1: Ian Skinner, New Jersey Colonials AA
Week 2: Brandon Balatbat, New Jersey Rockets AAA
2017 Award Winners:
Week 1: Luke Boss, West Ranch HS Varsity
Week 2: Michael Perea, Culver Military Academy
Week 3: Alexis Duke, Rocky Mountain Roughriders AAA
2016 Award Winners:
Week 1: Boston Lindlahr, Aspen Leafs, Junior A
Week 2: Greg McQuade, Detroit Catholic HS Varsity
Week 3: Natalie Maus, Colorado Selects AAA
2015 Award Winners:
Week 1: Hunter Johannes, Eden Prairie (MN) HS Varsity
Week 2: Wyler Yancy, Arizona Mission Midget AAA
Week 3: Kayla Trujillo, Canadian International Hockey Academy AAA
2014 Award Winners:
Week 1: Dan Diaz, AHU (AZ) Knights
Week 2 (tie!): Nick Ford, Cumberland Gards, CHL Junior A
Week 2 (tie!): Mitchel Machlitt, Breck (MN) High School Varsity
2013 Award Winners:
Week 1: Ivan Bondarenko, Moscow (Russia) Vityaz AAA
Week 2: Liam Slyne, Connecticut Yankees USPHL Junior A
2012 Award Winners:
Week 1: Omaha Lancers Major AAA Ryan Cagnoni
Week 2: Dallas Ice Jets Major AAA Devon Pilkington
---
CCM Hockey Top Defenseman Award:
2021 Award Winners:
Week 1: Sam Haver, Ralston Valley HS
Week 2: Remy Pusateri, Colorado Thunderbirds AAA
2019 Award Winners:
Week 1: David Wood, North York Rangers AAA (CAN)
Week 2: Dane Westen, Rocky Mountain Roughriders AAA
2018 Award Winners:
Week 1: John Wright, The Brooks School Prep
Week 2: Alexander Kulemetyev, Moscow White Bears AAA (Russia)
2017 Award Winners:
Week 1: Jeff Montoya, AZ Jr. Coyotes AAA
Week 2: Michael Fluty, Utah Jr. Grizzlies AA
Week 3: Sydney Dawson, CSAHA Lady Tigers AA
2016 Award Winners:
Week 1: Evan Erdman, Esmark Stars U16 AAA
Week 2: Colten Cole, Lincoln Jr. Stars AAA
Week 3: Erika Shirer, Dallas Stars Elite AAA
2015 Award Winners:
Week 1: Calin Erdmann, Aspen Leafs, RMJHL Junior A
Week 2: Bryon Moradshahi, San Jose Jr. Sharks Midget AAA
Week 3: Becky Brown, Colorado Selects AAA
2014 Award Winners:
Week 1: Rhys Phelps, Selects Academy AAA, South Kent School
Week 2: Holden Cronin, Yorkton Terriers, CHL Junior A
2013 Award Winners:
Week 1: Rhys Phelps, Selects Academy AAA, South Kent School
Week 2: Artem Stupnikov, Moscow (Russia) Kristall Elektrostal AAA
2012 Award Winners:
Week 1: Shattuck St. Mary's AAA Andrew Farny
Week 2: Moscow Stars AAA Artem Neksarov
---
CCM Hockey Top Goaltender Award:
2021 Award Winners:
Week 1: Hunter Farrer, Colorado Springs Tigers AAA
Week 2: Walker McEntire, Cherry Creek HS
2019 Award Winners:
Week 1: Alex Kowalewski, Golden State Elite AA
Week 2: Sawyer Goodwin, Vermont Flames AAA
2018 Award Winners:
Week 1: Zach Janda, Arapahoe Warriors AA
Week 2: Zach Dodson, Grand Rapids Griffins AA
2017 Award Winners:
Week 1: Porter Johnson, Utah Golden Eagles AA
Week 2: Joseph Bagi, NJ Bandits AAA
Week 3: Katie Rerko, Boston Shamrocks AAA
2016 Award Winners:
Week 1: Matt Soldano, San Diego Jr. Sabres Junior A
Week 2: Willy Mack, Pikes Peak Miners AAA
Week 3: Sierra Natzke, Boston Shamrocks AAA
2015 Award Winners:
Week 1: Tyler Shea, Valencia Flyers Bantam AA
Week 2: Kristofer Muhr, Colorado Rampage Midget AAA
Week 3: Sierra Natzke, Colorado Selects AAA
2014 Award Winners:
Week 1: Matt Soldano, Fresno Monsters, WSHL Junior A
Week 2: Kody Kuckniruk, Tisdale Trojans, Saskatchewan AAA
2013 Award Winners:
Week 1: Ty Bever, Pikes Peak Miners AA
Week 2: Jaxon Castor, Arizona Hockey Union AA
2012 Award Winners:
Week 1: CA Titans Sean Flanigan
Week 2: Boulder Bison Junior A Hunter Fernandez
USJDP Junior Prep Hockey Camp