USJDP Junior Prep Hockey Camp
2023 USJDP Boys Junior Prep Camp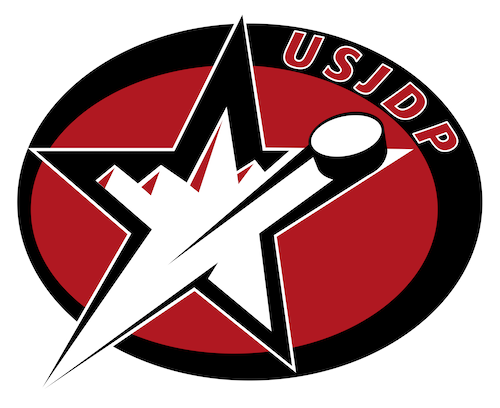 WEEK 1: June 18-24, 2023
WEEK 2: June 24-30, 2023
Magness Arena
University of Denver
Denver, CO
$1,055/week - day campers
$1,405/week - resident campers
The USJDP Junior Prep Camp provides elite Junior, Midget and Bantam aged hockey players (birth years 2003-2009) the professional skill development and exposure necessary to better prepare for Junior A and College hockey. This camp is directed by NHL, NCAA, USHL, NAHL and other Junior A hockey coaches/scouts and is intended for current year Bantam-Midget AAA/AA and Junior A/B hockey players only.
Featuring players from the US, Canada, Russia, Latvia, Switzerland, Belarus, Austria, Germany, France, Mexico, Slovakia, England, Sweden, Finland, Denmark, Japan, Hong Kong and the Czech Republic, this 2-week development camp provides all participants a complete development, training & exposure program with a daily schedule consisting of 4 hours of on-ice development, three hours of off-ice training, daily Junior Hockey Seminars, and Showcase Games.
If you are looking to go to an event with a hundred coaches were you will be seen, this is NOT the right program for you. If you want to go somewhere where you can train with, and against, other high-end hockey players that may be bigger, better, faster and stronger than you, then this IS the right program for you. The bottom line is this: if you are dedicated to working hard, pushing yourself, and doing whatever it takes to improve, then please feel free to apply for the USJDP Junior Prep Camp.
This is a two-week program and while it is recommended to attend both weeks to get the most out of the development program, players may register for 1 or 2 full weeks as they so choose.
---
Pro, NCAA & Junior A Coaching Staff
All Junior Prep Camp coaches are current Pro, NCAA or Junior A coaches and scouts and are responsible for all aspects of the on-ice player development process during the week. All Strength & Conditioning activities are directed by the University of Denver Head Strength Coach, Matt Shaw and staff.
Confirmed Junior Prep Camp coaches will be posted to the USJDP Facebook Page each spring as they are confirmed.
---
Scouting & Exposure Opportunities
As these coaches work with the athletes both on- and off-ice for the duration of the camp, they have an excellent opportunity to get to know each player personally and are in a position to better direct and guide that players development and training. Additionally, due to this relationship building, the camp has become a fertile recruiting ground as they get to know each players' strengths, weaknesses, compete levels, coachability, focus and preparation. As is stated, the Prep Camp is not a scouting combine nor showcase, but due to the level of the payers, and the nature of the coaches, recruiting opportunities do arise at camp every year.
---
Rink & Weight Room Facilities
All on-ice activities take place on Magness Arena and/or Joy Burns Arena, inside the Ritchie Center, on the campus of the University of Denver. All off-ice Strength Training sessions take place in the DU Varsity weight room, inside the brand-new, state of the art Pat Bowlen Center.
---
CCM Challenge Cup Games
Each week the players will participate in a 3-game CCM Challenge Cup series. These games are a chance for the players to showcase their skills to the coaches and scouts on hand each week and allow each athlete to better compare themselves against their peers. All games are 60-minute contests in a standard 3-period game format, with certified USA Hockey referees, and are played against the opposing team within their group. These games are held twice during the week during the evening Specialty Ice sessions, as well as the final scheduled game slots on the last day of camp each week.
---
CCM Hockey Top Prospects
Each year at the Prep Camp, the USJDP Staff on hand vote for the players whom they think performed the best and are most deserving of being selected as a CCM Hockey Top Prospect. As a CCM Hockey Top Prospect, selected players will be singled out on all player recruiting packets that go out not only to all coaches in attendance for both weeks of camp, but all scouts, and affiliate teams as well.
---
CCM Hockey Player of the Week Awards
The USJDP is proud to have CCM Hockey as an official sponsor of the Junior Prep Camp and as presenting sponsor for the Prep Camp Player of the Week Awards.
CCM Hockey is a dedicated supporter of top Junior leagues and camps in the world, including the USHL, WHL, OHL, QMJHL and the USJDP, and is committed to the development of Junior players across North America by providing direct access to the best equipment, player education, and training opportunities for participating players.
The USJDP is thrilled that our partnership with CCM Hockey allows us to recognize the top Forward, Defenseman, and Goaltender for each week of camp by presenting them with the best equipment & apparel available on the market today.
---
Player Evaluations
Each player will be assigned a Prep Camp Staff member for their weekly 1-on-1 exit interview/player evaluation each week they are in camp. The purpose of this meeting is to discuss, in person, their performance during the week, their strength's and weaknesses as a player, their mental understanding of the game, what the coaches saw during the week, what they need to work on, and how to best make these improvements. If a player is looking to make an impression on these coaches, maybe get on a watch list, or even pick their brain, this is the time to do it. Players are encouraged to take full advantage of our Staffs' knowledge, connections, experience and guidance to help them continue their development and move on to the next level.
NOTE: All player evaluations are face-to-face in nature and will not be accompanied by a written evaluation. Reason being is simple: a coach is going to be much more truthful in a face-to-face meeting with a young man than they would on a written document. We encourage all players to share what they have been told with their families, but it is ultimately up to them on what they decide to share. The bottom line is this: we feel it is more important for the players to hear the truth from the coaches directly, rather than a sugarcoated, overly sunny, and oftentimes glossed over, summer camp evaluation form.
---
Family Resource
The USJDP is available to all players and parents as a year-round resource. If you have a question about a team, a camp, a showcase, or anything else related to the advancement of your players career, please do not hesitate to call our offices at any time. We are always here to use our network of friends and contacts to help you out if we can.
---
Resident & Day Campers
This camp is available to residential campers (those staying on campus with us at DU) and day campers (those commuting to campus each day) alike. Full residential and day camper information can be found on the respective Resident Camper Info Page, and Day Camper Info Page.
---
Daily Prep Camp Schedule
The daily Prep Camp schedule consists of 4 hours on-ice, 3 hours off-ice and a Junior Hockey Seminar each day. The final schedule for each week will be shared later in the spring with all registered participants once confirmed. A sample daily schedule can be found here: Sample Junior Prep Hockey Camp Schedule
USJDP Junior Prep Hockey Camp